Chicago brand Sacred Serve is expanding its vegan superfood ice cream line to Whole Foods stores across the United States, reports Food Navigator-USA.
"Product integrity will be better than it has ever been"
Founded by Kailey Donewald, Sacred Serve packs its clean ice cream in the world's first plastic-free, 100% biodegradable ice cream cartons. To make the ice cream, Sacred Serve uses a base of recycled Thai green coconuts, which it says provides a lighter coconut flavor and thick texture that eliminates the need for gummies or stabilizers. The coconut is then blended with superfoods, adaptogens, and medicinal mushroom ingredients.
Acceleration ability
The brand first launched in 30 regional Whole Foods stores in 2019, where it has worked to build a strong relationship with the chain throughout the pandemic. Ahead of the nationwide launch, the company says it had to quickly expand its operations and manufacturing.
"We must have multiplied our activity by 5 to 10 in a few months," said Donewald. "We brought in a new manufacturer in Florida which is amazing. Product integrity will be better than ever.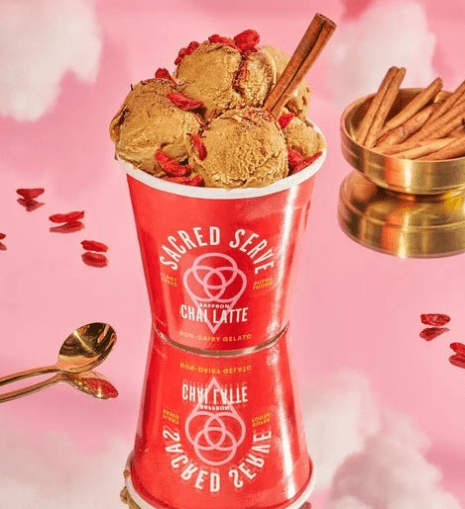 The company is also moving from single-serve packaging to full-size pints, which will offer consumers an additional 4 ounces of product at the same retail price. The Sacred Serve line is currently available in five flavors including Salted Caramel, Mint Chip, Chocolate, Cookies & Cream, and Chai Latte.
100% compostable
By the end of 2022, Donewald notes, Sacred Serve's entire product line will be made from fully compostable materials, a first for the dairy and plant-based ice cream categories. Although most ice cream cartons are made from cardboard, they contain a plastic inner liner that makes them unsuitable for recycling applications.
"We really hope that every ice cream company and every brand in the freezer also switches to compostable materials," says Donewal.